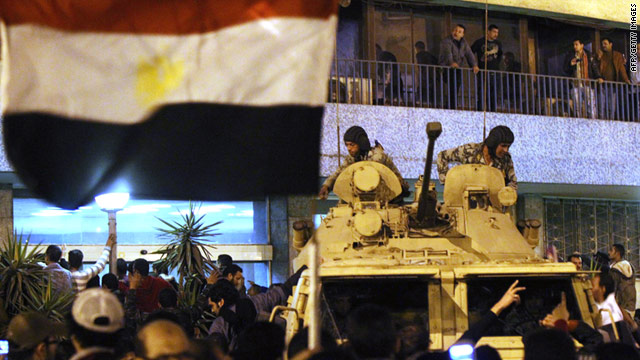 Source: CNN
Crowds flocked in the morning to Tahrir Square, which has become the focus of the uprising over poverty, corruption and unemployment, to join protesters who had camped out overnight in defiance of a curfew imposed by Mubarak.
Soldiers checked IDs but the crowd steadily grew, chanting "Down, down, Mubarak."
The uprising against Mubarak's 30-year-rule, now in its sixth day, unnerved global markets. Share prices fell across Asia on Monday morning, Brent oil hit a 28-month high, and Egypt's financial markets were closed for a second day in a row.
The mood between the troops and the protesters in the square remained generally relaxed, with people sharing food and standing by tanks daubed with anti-Mubarak graffiti.
The army appears to hold the key to Mubarak's fate but although the generals have held back from crushing the revolt, they have also not withdrawn support for Mubarak.
"The army has to choose between Egypt and Mubarak," read one banner in Tahrir Square.
The protests in the world's most populous Arab nation broke out last week when frustration over repression and the lack of democracy under Mubarak's rule boiled over.
More than 100 people were killed in clashes with security forces in scenes that overturned Egypt's standing as a stable country, promising emerging market and attractive tourist destination.
Mubarak, a close U.S. ally and a stalwart in Western policy toward the Middle East, responded by offering economic reform to address public anger at rising prices.
He also sacked his cabinet and appointed a vice president and new prime minister. Both, however, were military men and the moves have done nothing to appease a protest movement who want him and his associates from the old guard to be swept away.
WEST WAIT-AND-SEE
The United States, which has poured billions of dollars of aid into Egypt since Mubarak came to power, stopped short of saying openly that it wanted him out. President Barack Obama and Secretary of State Hillary Clinton instead urged reform and spoke about "an orderly transition."
A senior U.S. official, who declined to be identified, said the feeling among Obama's national security aides was that Mubarak's time had passed, but it was up to Egyptians to determine what happens next.
Washington has long seen Mubarak as a bulwark in the Middle East, first against communism then against militant Islam.
Source: REUTERS